SSG Capital Advisors, LLC advises Bruno's Supermarkets, LLC, in the sale of substantially all of its assets to Southern Family Markets Acquisition II, LLC.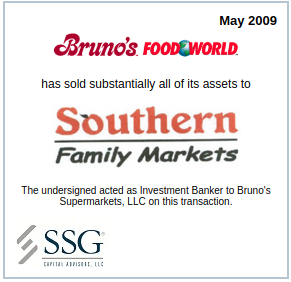 We are pleased to inform you that SSG Capital Advisors, LLC ('SSG') acted as the exclusive investment banker to Bruno's Supermarkets, LLC ('Bruno's' or the 'Debtor') in its sale to Southern Family Markets Acquisition II, LLC and Hilco under Section 363 of the Bankruptcy Code in the U.S. Bankruptcy Court for the Northern District of Alabama. SSG also advised on the sale of substantially all of Bruno's pharmacy assets to CVS Pharmacy, L.L.C., Fred's Stores of Tennessee, Target Corporation and Walgreen Co. The transaction initially closed at the end of May with continuing store conversions through June 2009.
Bruno's was founded in 1933 and is based in Birmingham, AL. Bruno's operates 56 supermarkets throughout Alabama and the Florida Panhandle region under three distinct banners: Bruno's, Food World and FoodMax. Bruno's supermarkets offer customers comprehensive grocery and complementary product selections combined with world class customer service that meet the needs of today's discerning customer.
For over 85 years C&S Wholesale Grocers ('C&S'), based in Keene, NH, has provided first-class warehousing and distribution services to its customers. In 2007, Forbes magazine ranked C&S the 10th largest privately held company in the nation. From over 70 warehouse facilities throughout the United States, C&S serves some of the largest supermarket chains in the nation. Southern Family Markets ('SFM') is the retail operation of C&S and operates stores primarily in the Southeastern United States. The acquisition of the Bruno's restores a retail presence for SFM in the Birmingham, AL metropolitan area.
SSG's experience identifying alternative solutions and buyers and in navigating difficult waters enabled all key stakeholders to maximize recoveries while preserving the jobs of the majority of Bruno's employees.
If you would like to learn more about SSG, or would like to inquire about the Bruno's transaction, please contact one of the SSG deal team members.
Other professionals who worked on the transaction include:
* Robert B. Rubin, Derek F. Meek, Marc P. Solomon, Gerald P. Gillespy, Damon P. Denney, C. Logan Hinkle, K. Bryance Metheny, Jennifer Mercier Moseley, Amanda M. Beckett, April McKenzie Mason, Clifton C. Mosteller and Andrea Weed of Burr & Forman, LLP, counsel to Debtor
* Charles Denaburg of Najjar Denaburg, P.C. and Rita H. Dixon of Rita Dixon, LLC, conflicts counsel to the Debtor
* Rufus T. Dorsey, IV and C. Edward Dobbs of Parker, Hudson, Rainer & Dobbs, LLP and Jayna Partain Lamar of Maynard Cooper & Gale, counsel to Regions Bank (DIP lender)
* Jim Grady, Chief Restructuring Officer, Joel Rogers and Jessica Wang of Alvarez and Marsal, turnaround consultants to the Debtor
* James D. Sacca and John D. Elrod of Greenberg Traurig, LLP, counsel to the Unsecured Creditors' Committee
* Larry Lattig, Adriana Vidal and Lee Biggerstaff of Mesirow Financial Consulting LLC, financial advisor to the Unsecured Creditors Committee
About SSG Capital Advisors, LLC
SSG is an investment bank dedicated to representing middle market clients in restructuring situations, both in and out of bankruptcy proceedings. SSG provides its clients with comprehensive advisory services in the areas of mergers and acquisitions, financing, financial restructuring and valuation. SSG's professionals are well versed in all areas of restructuring and include former bankruptcy attorneys, senior credit officers, M&A professionals and commercial lenders.