SSG Capital Advisors, LLC advises David Ritz and RCI Acquisition, LLC in the acquisition of Ritz Camera Centers out of Chapter 11.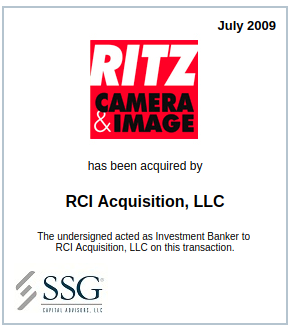 We are pleased to inform you that SSG Capital Advisors, LLC ("SSG") acted as the exclusive investment banker to David Ritz and RCI Acquisition, LLC in their acquisition of substantially all of the assets of Ritz Camera Centers under Section 363 of the Bankruptcy Code in the U.S. Bankruptcy Court for the District of Delaware. The transaction closed in July, 2009.
Ritz Camera Centers, headquartered in Beltsville, MD, is the largest photo specialty retail chain in the U.S. Operated under the Ritz Camera and Wolf Camera brands, the Company maintained approximately 800 stores that generated $1 billion of revenue prior to filing for Chapter 11 bankruptcy protection in February, 2009. Upon the Chapter 11 filing, the Company went through an operational restructuring that included closing all but 375 of the larger footprint stores and dramatically reducing SG&A.
David Ritz and Fred Lerner on behalf of RCI Acquisition and team members Scott Neamand, Steve LaMastra and Tom Hermann spearheaded an effort to buy the Company out of Chapter 11 and maintain it as a going concern. Facing a stalking horse bid from a private equity firm and competing bids from the country's largest liquidators, RCI Acquisition outlasted all other bidders after a 24 hour all night auction on July 21 to emerge as the highest and best bid and only offer to maintain Ritz Camera Centers as a going concern. The sale was approved by Judge Mary Walrath of the U.S. Bankruptcy Court for the District of Delaware on July 23 and closed on July 24, 2009. To learn more about Ritz Camera Centers, go to www.ritzcamera.com.
SSG was retained by David Ritz and the RCI Acquisition team to structure, negotiate and raise the capital required for the acquisition. "In a retail and credit environment that has resulted in the liquidation of most retailers forced into Chapter 11, it was a great success to save Ritz Camera Centers and the jobs of thousands of employees," said David Ritz, CEO of Ritz Camera Centers and RCI Acquisition. "SSG's unique and extensive experience in special situation M&A transactions gave us the creditability, creativity and tenacity to get the deal done," said Fred Lerner, President of Ritz Interactive and RCI Acquisition.
If you would like to learn more about SSG or inquire about the Ritz Camera Centers transaction, please contact one of the SSG deal team members.
Other professionals who worked on the transaction include:
Derek Abbott, Walter Tuthill, Tarik Haskins, Matt Harvey, Greg Donilon and Curtis Miller of Morris, Nichols, Arsht & Tunnell LLP, counsel to RCI Acquisition, LLC.
Irv Walker, Norm Pernick, Gary Leibowitz and Karen McKinley of Cole, Schotz, Meisel, Forman & Leonard, P.A., counsel to the Debtor.
Marc Weinsweig, Robert Duffy, Charlie Reeves and Steve Coulombe of FTI Consulting, financial advisors to the Debtor.
Cathy Hershcopf, Jay Indyke, Brent Weisenberg and Lesley Kroupa of Cooley Godward Keronish LLP, counsel to the Creditors Committee.
Tim Hurley, Dan Polsky and Narendra Ganti of Deloitte, financial advisor to the Creditors Committee.
About SSG Capital Advisors, LLC
SSG is an investment bank dedicated to representing middle market clients in restructuring situations, both in and out of bankruptcy proceedings. SSG provides its clients with comprehensive advisory services in the areas of mergers and acquisitions, financing, financial restructuring and valuation. SSG's professionals are well versed in all areas of restructuring and include former bankruptcy attorneys, senior credit officers, M&A professionals and commercial lenders.