SSG Capital Advisors, LLC advises Frank Parsons Inc. in its sale to The Supply Room Companies, Inc.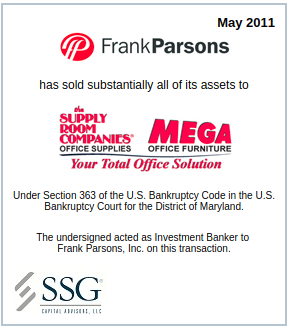 We are pleased to inform you that SSG Capital Advisors, LLC ("SSG") acted as the investment banker to Frank Parsons Inc. ("Frank Parsons" or the "Company") in the sale of substantially all of its assets to The Supply Room Companies, Inc. ("TSRC") pursuant to Section 363 of the U.S. Bankruptcy Code in the U.S. Bankruptcy Court for the District of Maryland. The sale transaction closed on May 6, 2011.
For more than 70 years, Frank Parsons has been one of the leading business supplies and paper distributors in the Baltimore-Washington, DC metropolitan area. Frank Parsons distributes a comprehensive range of office products and services to fully outfit a business, including office supplies, ink and toner, paper, technology, furniture and maintenance and breakroom supplies. The Company also offers a number of services through its partnerships with leading service providers that assist businesses with many important tasks and day-to-day functions, such as ensuring data security, increasing efficiency, decreasing downtime, preparing for changes in technology, managing documents and maintaining equipment. The comprehensive product and service offering allows Frank Parsons to be a one-stop-shop for its customer base. With many customer relationships stretching more than 25 years, the Company has established relationships with many high-quality, well-recognized customers.
Management recognized that the Company's fine paper division, its largest business unit, was in a shrinking market and chose to divest it to focus resources on its business products division, which had historically experienced steady growth and profitability. However, due to a combination of macroeconomic factors, capital constraints and the disruption and impact of the sale of its fine paper division, Frank Parsons business products division's revenue was less than projected, causing a reduction in availability from the Company's senior lender and decreasing the Company's cash position. After exploring its options, Frank Parsons filed for protection under Chapter 11 of the U.S. Bankruptcy Code in the District of Maryland in January 2011.
Frank Parsons engaged SSG to explore all strategic alternatives, including a sale of substantially all of the Company's assets. SSG marketed the Company to a wide range of strategic and financial parties, ultimately receiving multiple offers for the Company and initiated and led the sale to TSRC under Section 363 of the U.S. Bankruptcy Code. SSG's experience identifying buyers and running an expedited sale process enabled the Company and its legacy to continue as a going concern while preserving jobs for the majority of Frank Parsons' employees.
Based in Richmond, Virginia, TSRC is the largest woman-owned independent dealer of office supplies and furniture in the Commonwealth of Virginia. TSRC offers a wide variety of office product and service needs through its multiple divisions including The Supply Room Office Supplies and Mega Office Furniture. Serving the entire Virginia market with sales offices located statewide, TSRC provides a total office solution for its customer base.
Other professionals who worked on the transaction include:
Irving E. Walker, Gary H. Leibowitz, Marc P. Press, and Sanjay Bhatnagar of Cole, Schotz, Meisel, Forman & Leonard, P.A., counsel to Frank Parsons;
Marc Weinsweig of WeinsweigAdvisors LLC, financial advisor to Frank Parsons;
Grant S. Grayson and Dwight F. Hopewell of LeClairRyan, counsel to The Supply Room Companies, Inc.;
Maria Ellena Chavez-Ruark of Tydings & Rosenberg LLP, counsel to Wells Fargo, the senior lender;
Bradford Sandler and Michael Seidl of Pachulski Stang Ziehl & Jones LLP, counsel to the Unsecured Creditors' Committee; and
Ted Gavin and Sarah Pugh of NHB Advisors, Inc., financial advisors to the Unsecured Creditors' Committee.
About SSG Capital Advisors, LLC
SSG Capital Advisors, LLC ("SSG") is a leading independent boutique investment bank that assists middle market companies, as well as their stakeholders, complete special situation transactions. As a specialist in mergers and acquisitions, financial advisory, capital raises, financial restructurings and complex valuations, we offer the expertise our clients need in today's complex and fast-moving financial markets. As a partner-owned firm with a clear focus, we offer the personal attention of our senior partners, entrepreneurial spirit, and agility in the marketplace that middle-market businesses expect. Since 2001, SSG has successfully completed over 180 special situation investment banking assignments on behalf of clients in North America and Europe.