SSG Closes Internet Fitness Refinancing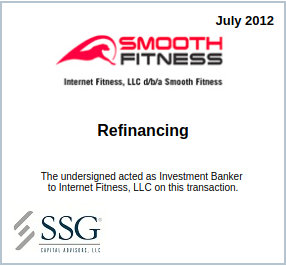 We are pleased to inform you that SSG Capital Advisors, LLC ("SSG") acted as the exclusive investment banker to Internet Fitness, LLC d/b/a Smooth Fitness ("Smooth" or the "Company") in the placement of a new secured term loan. The transaction closed in July 2012.
Smooth is a premier designer and online retailer of home fitness equipment across North America. The Company markets and sells its products exclusively over the Internet through its U.S. websites, smoothfitness.com and 1800treadmill.com as well as its Canadian site, smoothfitness.ca. Located in King of Prussia, PA, the Company was founded in 1985 as a brick and mortar specialty retailer and has since established itself as the country's leading online retailer of home fitness equipment. The Company designs and sells its own products, which are featured and/or endorsed in numerous leading publications and have scored highly in top customer and comparison site reviews. Products include treadmills, elliptical trainers, exercise bikes and home gyms that feature a variety of unique features and proprietary innovations.
Since refining its e-commerce strategy in recent years, the Company has experienced tremendous growth. SSG Capital Advisors was retained to help source additional debt capital to infuse liquidity to support this growth and ultimately delivered a new secured term loan.
Smooth is a portfolio company of NewSpring Capital and Spring Capital.
About SSG Capital Advisors, LLC
SSG Capital Advisors, LLC ("SSG") is a leading independent boutique investment bank that assists middle market companies, as well as their stakeholders, complete special situation transactions. As a specialist in mergers and acquisitions, financial advisory, capital raises, financial restructurings and complex valuations, we offer the expertise our clients need in today's complex and fast-moving financial markets. As a partner-owned firm with a clear focus, we offer the personal attention of our senior partners, entrepreneurial spirit and agility in the marketplace that middle-market businesses require. Since 2001, SSG has successfully completed over 190 special situation investment banking assignments on behalf of clients in North America and Europe.
Securities are offered through SSG Capital Advisors, LLC (Member SIPC, Member FINRA). All other transactors are effectuated through SSG Advisors, LLC, both of which are wholly owned by SSG Holdings, LLC. SSG is a registered trademark for SSG Capital Advisors, LLC and SSG Advisors, LLC. SSG provides investment banking, restructuring advisory, merger, acquisition and divestiture services, private placement services and valuation opinions. Past performance is no guarantee of future results