SSG Closes Nanco Refinancing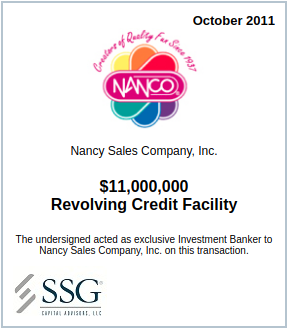 We are pleased to inform you that SSG Capital Advisors, LLC ("SSG") acted as the exclusive investment banker to Nancy Sales Company, Inc. ("Nanco" or the "Company") in the placement of Nanco's new revolving credit facility. The transaction closed in October 2011.
Founded in 1937 and headquartered outside of Boston, MA, Nanco is one of the largest providers of plush toys and other products to the amusement and tourist/resort industries. The Company has earned an excellent reputation for quality and service among its diverse customer base. The Company offers a wide variety of popular licensed brands, including Domo, Yo Gabba Gabba, the Smurfs, Sesame Street and SpongeBob. With an in-house art department, Nanco is able to produce innovative and creative designs for its products. The Company has long-standing relationships with customers and vendors, allowing for quality production and favorable sourcing opportunities. A 250,000 square foot distribution center located at the Company's corporate office near Boston, as well as a facility in California, provides strategic placement of manufacturing and distribution centers which enable Nanco to maximize sales by providing a time-critical service for product delivery.
After many consecutive years of profitability, the general downturn in the U.S. economy caused the Company to suffer a significant loss in-season in fiscal 2008 which happened so swiftly that the Company could not downsize fast enough to mitigate the loss. Although profitability was restored in 2009, the Company faced lingering liquidity issues. SSG Capital Advisors was retained to help the Company manage its existing lender relationship and seek new capital. SSG helped deliver a new working capital facility that provided the Company with sufficient liquidity to continue its operational turnaround and to restore growth.
About SSG Capital Advisors, LLC
SSG Capital Advisors, LLC ("SSG") is a leading independent boutique investment bank that assists middle market companies, as well as their stakeholders, complete special situation transactions. As a specialist in mergers and acquisitions, financial advisory, capital raises, financial restructurings and complex valuations, we offer the expertise our clients need in today's complex and fast-moving financial markets. As a partner-owned firm with a clear focus, we offer the personal attention of our senior partners, entrepreneurial spirit and agility in the marketplace that middle-market businesses require. Since 2001, SSG has successfully completed over 180 special situation investment banking assignments on behalf of clients in North America and Europe.