SSG Closes Polymer Technology Systems, Inc. Refinancing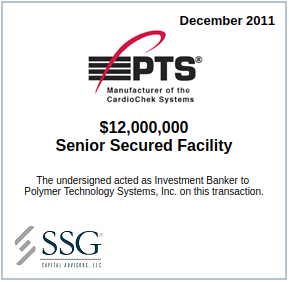 We are pleased to announce that SSG Capital Advisors, LLC ("SSG") acted as the exclusive investment banker to Polymer Technology Systems, Inc. ("PTS" or the "Company") in the placement of its new senior secured debt. The transaction closed on December 16, 2011.
PTS is a privately-held company based in Indianapolis, IN that produces point-of-care diagnostic tools for the global healthcare market. PTS develops, licenses and sells diagnostic testing equipment for chronic diseases such as heart disease, diabetes and other related medical conditions. The Company has developed proprietary technology products that quickly and accurately test for cholesterol and other lipid levels in the blood. PTS serves the health promotion (screening), physician office laboratory and over-the-counter ("OTC") markets both in the U.S. and internationally. The Company serves its customers through a well-developed global distribution network of loyal distributors that covers over 100 countries.
Looking to find a more permanent solution for its matured senior debt, PTS retained SSG to explore strategic alternatives. Leveraging its relationships, SSG contacted a broad range of lenders and investors with an interest in the medical diagnostic equipment space. After reviewing both refinancing and sale alternatives, a new senior secured facility was deemed to be the best alternative that would position the Company for long-term growth and enhance shareholder value.
Other professionals who worked on the transaction include:
Jerald I. Ancel, Marlene Reich, Bradley W. Schwer, James A. Strain and Sarah Rees Hamilton of Taft Stettinius & Hollister LLP, counsel to Polymer Technology Systems, Inc.;
David Hamernik and Dan Sailer of Hamernik, L.L.C., financial advisor to the former Lender; and
Stephen Claffey of Faegre Baker Daniels, counsel to the former Lender.
About SSG Capital Advisors, LLC
SSG is a leading independent boutique investment bank that assists middle market companies, as well as their stakeholders, complete special situation transactions. As a specialist in mergers and acquisitions, financial advisory, capital raises, financial restructurings and complex valuations, we offer the expertise our clients need in today's complex and fast-moving financial markets. As a partner-owned firm with a clear focus, we offer the personal attention of our senior partners, entrepreneurial spirit and agility in the marketplace that middle-market businesses require. Since 2001, SSG has successfully completed over 180 special situation investment banking assignments on behalf of clients in North America and Europe.