SSG Closes TTC, LLC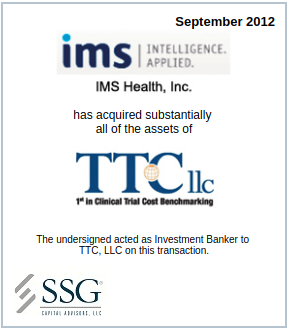 We are pleased to inform you that SSG Capital Advisors, LLC ("SSG") and Fairmount Partners ("Fairmount") acted as co-investment bankers to the Tar Heel Trading Company ("TTC" or the "Company") in its sale to IMS Health ("IMS"). The transaction closed in August 2012.
TTC provides drug development organizations with state-of-the-art clinical trial cost benchmarking tools and budgeting applications that are critical to achieving more cost-effective clinical trials. TTC provides its subscribers, consisting of pharmaceutical, biotechnology and medical device companies, as well as clinical research organizations, with access to the most comprehensive set of structured clinical trial cost benchmarking data available in the market. TTC's data enable subscribers to review and compare their respective clinical trial requirements and budgets against similar, final negotiated clinical trial cost components and budgets for clinical trials conducted by industry peers.
TTC is a highly profitable, privately held business and retained SSG and Fairmount to facilitate the exploration of its strategic alternatives, including the sale of the Company. After receiving a strong reception from both strategic and financial investors, TTC was acquired by IMS, a leading provider of information, services and technology for the healthcare industry. IMS plans to integrate its evidence-based, anonymized patient and treatment outcomes insights with TTC's comprehensive cost data drawn from organizations that conduct nearly 80% of all commercial clinical studies. The transaction provides TTC with strategic resources to support its growth initiatives and allows TTC's owner the opportunity to pursue other business initiatives.
If you would like to learn more about SSG or inquire about the TTC transaction, please contact one of the SSG deal team members.
About SSG Capital Advisors, LLC
SSG Capital Advisors, LLC ("SSG") is a leading independent boutique investment bank that assists middle market companies, as well as their stakeholders, in completing healthy and special situation transactions. As a specialist in mergers and acquisitions, financial advisory, capital raises, financial restructurings and complex valuations, we offer the expertise our clients need in today's complex and fast-moving financial markets. As a partner-owned firm with a clear focus, we offer the personal attention of our senior partners, entrepreneurial spirit and agility in the marketplace that middle-market businesses require. Since 2001, SSG has successfully completed over 200 investment banking assignments on behalf of clients in North America and Europe.