SSG Closes Whitlock Packaging Transaction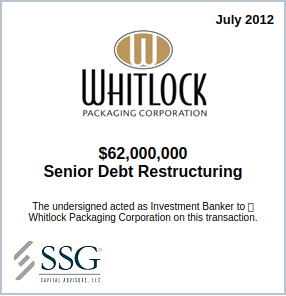 We are pleased to inform you that SSG Capital Advisors, LLC ("SSG") acted as the exclusive investment banker to Whitlock Packaging Corporation ("Whitlock" or the "Company") in the restructuring of its senior secured loan facility with its existing lender group. The transaction closed on July 31, 2012.
Headquartered in Tulsa, OK, Whitlock is the nation's largest contract manufacturer of non-carbonated beverages. Whitlock's manufacturing facilities are strategically located in New Jersey, Oklahoma and Florida, providing the Company with a diverse geographic footprint and access to some of the largest customer markets in the U.S. Along with its strategic footprint and fully integrated range of services, the Company's high volume and low cost production capabilities mandate its status as a national leader in contract manufacturing.
Although Whitlock has a history of strong revenue growth and consistent margins, one-time events in 2011 had a significant impact on the Company's financial performance. As a result of the Company's underperformance in 2011, Whitlock breached several financial covenants under its existing debt facilities.
SSG was retained to help the Company manage its existing lender relationship and seek new capital. Leveraging its extensive relationships, SSG contacted a broad range of lenders and investors with an interest in the contract manufacturing space. After receiving multiple creative financing proposals, the Company and SSG were able to successfully renegotiate and restructure the senior secured credit facility with the existing lender group. As a result of SSG's efforts, the Company is well positioned to meet near term challenges, to facilitate long-term growth and enhance shareholder value. Throughout the first half of 2012, Whitlock's financial performance improved significantly and the Company is on track to perform well above forecast for FY 2012.
Other professionals who worked on the transaction include:
William K. Snyder, Paul Ravaris, and John E. Hanson of Deloitte CRG, financial advisor to Whitlock Packaging Corporation;
Joseph P. Lennart of Riggs, Abney, Neal, Turpen, Orbison & Lewis, Inc., counsel to Whitlock Packaging Corporation; and
Scott C. Wallace and Robert W. Jones of Patton Boggs LLP, counsel to the lender group.
About SSG Capital Advisors, LLC
SSG Capital Advisors, LLC ("SSG") is a leading independent boutique investment bank that assists middle market companies, as well as their stakeholders, in completing special situation transactions. As a specialist in mergers and acquisitions, financial advisory, capital raises, financial restructurings and complex valuations, we offer the expertise our clients need in today's complex and fast-moving financial markets. As a partner-owned firm with a clear focus, we offer the personal attention of our senior partners, entrepreneurial spirit and agility in the marketplace that middle-market businesses require. Since 2001, SSG has successfully completed over 200 special situation investment banking assignments on behalf of clients in North America and Europe.