SSG Places Debt Financing for Wood-Mode Incorporated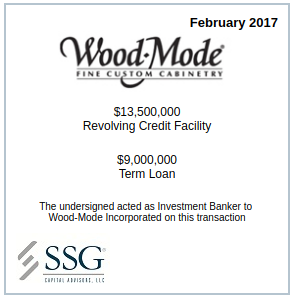 SSG Capital Advisors, LLC ("SSG") acted as the investment banker to Wood-Mode Incorporated ("Wood-Mode" or the "Company") in the placement of a financing package which enabled Wood-Mode to refinance existing indebtedness and generate additional liquidity for growth. The transaction closed in February 2017.
Founded in 1942, Wood-Mode is a manufacturer of high-end custom cabinetry crafted for use in kitchens, bathrooms, closets/wardrobes, entertainment areas, offices and hobby areas or any other household location requiring storage. Wood-Mode markets its products under two well-known and respected brand names, Wood-Mode and Brookhaven. The Company's design portfolio offers a diverse collection of styles inspired by classical motifs from around the world, as well as American classics. The Company's ever-evolving selection of wood species, door styles, fine furniture-quality finishes and creative custom design elements offer consumers the freedom and flexibility to create a truly personalized living space.
Wood-Mode experienced a significant improvement in performance in fiscal year ("FY") 2015 and successfully implemented a number of operational initiatives in FY 2016 that positioned the Company for future growth. However, Wood-Mode's capital structure did not provide adequate liquidity to fund the Company's seasonal working capital requirements and anticipated Q2 FY 2017 production ramp-up. SSG was engaged to refinance the Company's existing credit facility and secure additional availability to fund the Company's projected cash needs. SSG solicited interest from a targeted list of traditional and alternative lenders and received multiple term sheets. A split-lien deal was determined to be the best solution, with one lender providing a new revolving line of credit (the "Revolver Lender") and another lender providing a new term loan (the "Term Loan Lender"). SSG's experience in identifying lenders and running an expedited financing process resulted in a solution for the Company that provided additional availability to finance ongoing operations and future initiatives.
Other professionals who worked on the transaction include:
Shaun Martin and Barak Tulin of Winter Harbor, LLC, financial advisor to Wood-Mode Incorporated;
Anne M. Madonia, Steven N. Haas, Francis J. Bergold and Edgar G. Rapoport of Cozen O'Connor P.C., counsel to Wood-Mode Incorporated;
Sanjay Thapar, Christine A. Dionne, Soufi Mirfakhraei and Leslie A. Plaskon of Paul Hastings LLP, counsel to the Term Loan Lender; and
Stephen H. Alpert, Mitchell M. Brand, Daniel P. Greenstein and Julie M. Murphy of Stradley Ronon Stevens & Young, LLP, counsel to the Revolver Lender.