SSG Sells Next Generation Vending and Food Services to H.I.G.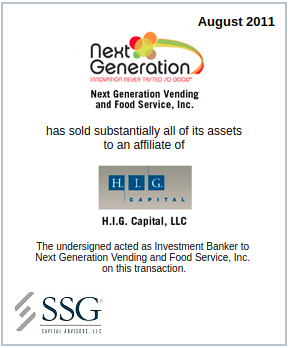 We are pleased to announce that SSG Capital Advisors, LLC ("SSG") acted as the exclusive investment banker to Next Generation Vending and Food Service, Inc. ("Next Generation" or the "Company") in its sale to an affiliate of H.I.G. Capital, LLC ("H.I.G."). The transaction closed in August 2011.
Next Generation is a leading provider of vending services for corporate and institutional customers. Headquartered in Canton, MA and with customers throughout the Northeast and New England, Next Generation offers full vending services to customers in the manufacturing, education, retail and healthcare sectors. The Company's footprint spans over 200 routes with over 25,000 vending machines that produce over 100 million customer experiences annually.
Next Generation was formed in late 2007 to acquire a portion of an existing vending business. After struggling through the recession, the Company experienced significant liquidity constraints which materially impacted management's ability to implement a comprehensive restructuring. The Company's existing lender group was fatigued and unable to provide sufficient go-forward capital needed to implement technological improvements and facilitate add-on acquisitions to fuel growth and complete management's restructuring initiatives.
SSG was retained as the Company's investment banker to explore strategic alternatives, including a potential sale. After conducting a comprehensive bidding process, SSG obtained multiple competitive offers. The offer made by H.I.G., in addition to maximizing value, enabled the Company to optimally reset its capital structure to support the business plan and long-term growth initiatives.
H.I.G. is a private equity investment firm which specializes in acquisitions and recapitalizations of publicly and privately held businesses. Based in Miami, FL and with several other offices, the firm has over $8.5 billion of capital under management and is one of the most active middle-market private equity firms. H.I.G. has completed over 125 platform investments and over 250 total acquisitions of middle-market companies since 1993.
Other professionals who worked on the transaction include:
Michael Phillips, Todd Ofenloch and Bobby Sheth, H.I.G. Capital, LLC;
Jeffery L. Elegant, Katten Muchin Rosenman LLP, Lender's Counsel;
John F. Wolter and David E. Sturgess, Updike, Kelly & Spellacy, P.C., Lender's Counsel;
Roy E. Filkoff, Altman & Company, LLC, Lender's Financial Advisor;
Amit Mehta, Paul, Hastings, Janofsky and Walker LLP, Counsel to H.I.G.; and
James B. Zuckernik and J. Michael Wirvin, Robinson & Cole LLP, Counsel to Next Generation Vending and Food Service, Inc.
About SSG Capital Advisors, LLC
SSG Capital Advisors, LLC ("SSG") is a leading independent boutique investment bank that assists middle market companies, as well as their stakeholders, complete special situation transactions. As a specialist in mergers and acquisitions, financial advisory, capital raises, financial restructurings and complex valuations, we offer the expertise our clients need in today's complex and fast-moving financial markets. As a partner-owned firm with a clear focus, we offer the personal attention of our senior partners, entrepreneurial spirit and agility in the marketplace that middle-market businesses require. Since 2001, SSG has successfully completed over 180 special situation investment banking assignments on behalf of clients in North America and Europe.