Teresa C. Kohl, Managing Director of SSG Capital Advisors, to be Inducted as a Fellow in the American College of Bankruptcy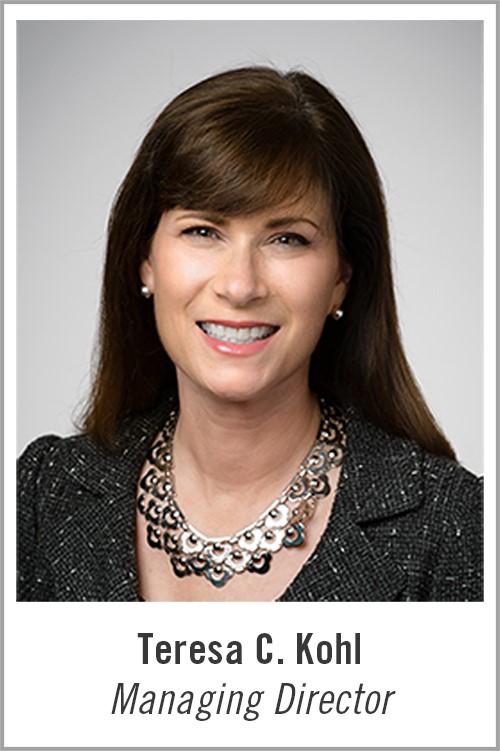 SSG Capital Advisors is pleased to announce that Teresa C. Kohl will be inducted as a Fellow in the 32nd Class of the American College of Bankruptcy. Kohl is one of 37 new Fellows, insolvency professionals who are being honored and recognized for their professional excellence and their exceptional contributions to the bankruptcy and insolvency practice. The Induction Ceremony will be held on Friday, March 19, 2021, in Washington, D.C.
Kohl is an expert in the restructuring, refinancing and sale of distressed middle-market companies. She provides investment banking services focusing on the sale, turnaround financing, restructuring and complex valuation of middle-market companies facing operational or financial challenges both in and out of Chapter 11 proceedings throughout the U.S. and Europe.
The American College of Bankruptcy is an honorary public service association of U.S. and international insolvency professionals who are invited to join as Fellows based on a proven record of the highest standards of expertise, leadership, integrity, professionalism, scholarship, and service to the bankruptcy practice and to their communities. In all of its work, the College is dedicated to enhancing professionalism, scholarship, diversity, service in bankruptcy and insolvency law and practice, and support of pro bono bankruptcy services around the country. Nominees are extended an invitation to join based on a sustained record of achievement. Candidates are selected by the College's Board of Regents from recommendations of Circuit Admissions Councils in each federal judicial circuit and Committees for Judicial and International Fellows.
ACB Fellows include judges, lawyers, international fellows, financial advisors, investment bankers, corporate turnaround specialists, government officials and other professionals who are experts in the field of bankruptcy and insolvency. Criteria for selection as a Fellow of the College include: the highest standards of professionalism, ethics, character, integrity, professional expertise and leadership contributing to the enhancement of bankruptcy and insolvency law and practice; sustained evidence of scholarship, teaching, lecturing or writing on bankruptcy or insolvency; community service; and commitment to elevate knowledge and understanding of the profession and public respect for the practice.