SSG Advises Custom Alloy Corporation in the Sale of Substantially All of its Assets to an Affiliate of Trident Maritime Systems, LLC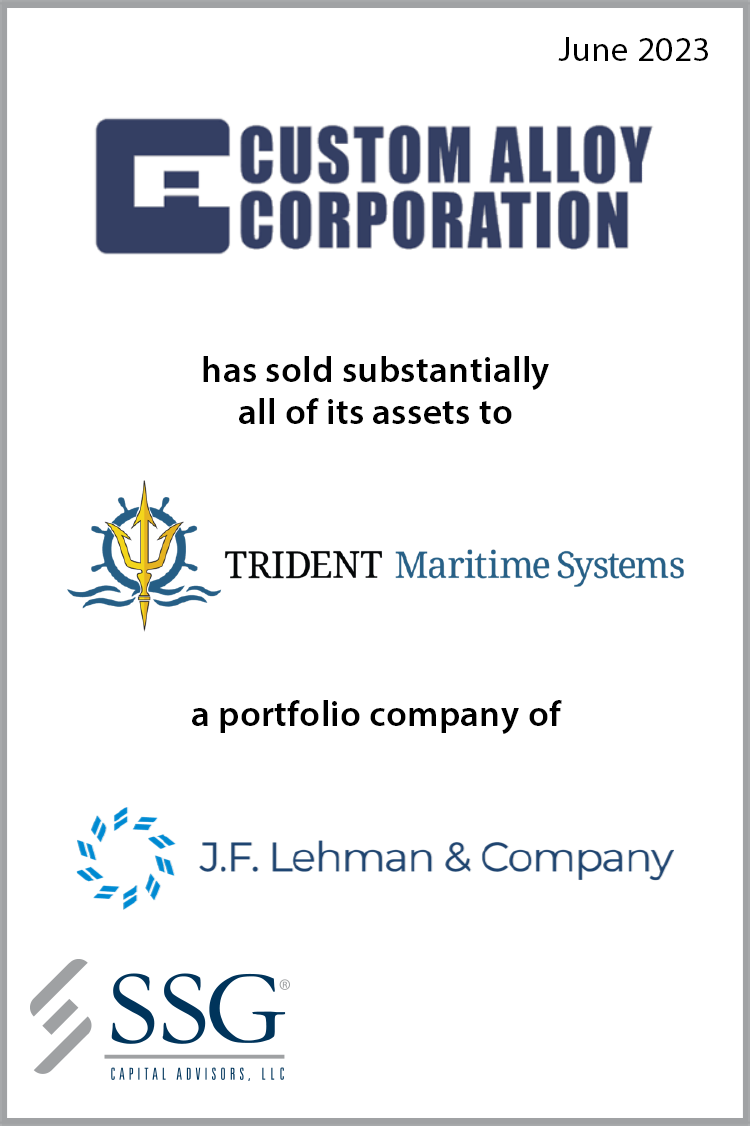 SSG Capital Advisors, LLC ("SSG") acted as the investment banker to Custom Alloy Corporation and certain affiliates (together, "Custom Alloy" or the "Company"), in the sale of substantially all of its assets to an affiliate of Trident Maritime Systems, LLC ("Trident"), a portfolio company of J.F. Lehman & Company. The transaction closed in June 2023 pursuant to a Section 363 sale process in the U.S. Bankruptcy Court for the District of New Jersey.
Founded in 1968 and headquartered in High Bridge, New Jersey, Custom Alloy is a leading manufacturer of seamless and welded fittings, forgings and pipe. Custom Alloy's products are utilized in demanding conditions such as high-pressure lines, corrosive environments, heat severity and nuclear applications. With over 190 employees and approximately 450,000 square feet of manufacturing space across four facilities, the Company has the unique ability to produce customized products in an expedited timeframe and meaningfully reduce costly downtime caused by emergencies, project delays and planned maintenance. These attributes, coupled with the Company's extensive engineering expertise, have contributed to Custom Alloy being a mission-critical supplier to the U.S. Nuclear Submarine program.
Custom Alloy primarily served the energy markets for over five decades. To offset the cyclical nature of the oil & gas sector, the Company chose to expand beyond this segment in early 2017 and diversify its customer base to include military / defense, shipbuilding, mining, and foreign defense markets. The Company successfully generated demand from its new end market customers, but was unable to fully capitalize on all available opportunities due to liquidity constraints. Shipping and supply chain issues further exacerbated the Company's challenges. In order to preserve operations, the Company filed for protection under Chapter 11 in October 2022.
SSG was retained in January 2023 as Custom Alloy's exclusive investment banker to conduct a comprehensive, dual-track marketing process and solicit interest from lending institutions and investors to support a plan of reorganization or effectuate an outright sale of the business to a strategic or financial buyer. Prior to SSG's engagement, the Company ran an unsuccessful sale process that yielded depressed valuations from prospective purchasers. SSG's process garnered substantial interest, and multiple offers were received for both a plan of reorganization and stalking horse bids for a Section 363 sale transaction. After extensive negotiations and considering all available alternatives, Trident was selected as the stalking horse with a bid value of $27.5 million (the "Stalking Horse Bid"). Following an expedited remarketing of the Stalking Horse Bid and the receipt of two additional qualified bids, an auction was held in early May 2023. SSG's strategy at the auction resulted in all three bidders substantially increasing their bids to in excess of $37.0 million of total consideration. Ultimately it was determined that Trident's offer at the conclusion of the auction provided the highest and best offer for substantially all of the Company's assets. The sale to Trident was approved by the Bankruptcy Court in late May 2023 and closed in mid-June 2023. SSG's special situations expertise, significant experience in the manufacturing sector and ability to navigate complex stakeholder relationships generated a robust process, a competitive auction environment, and a successful outcome. The sale resulted in payment in full of the senior secured debt, all priority claims and all administrative claims and, most importantly, preserved the business as a going concern to continue providing domestic manufacturing resources to the United States Armed Forces.
Trident Maritime Systems is a renowned provider of engineered maritime solutions, specializing in cryogenic insulation, marine outfitting, system integration, automation, hybrid propulsion, energy management, scrubber installation and environmental solutions for shipbuilders and owners in the cruise, military, offshore oil & gas and commercial ship markets with turnkey execution from drawings through delivery.
J.F. Lehman & Company is a leading middle-market private equity firm focused exclusively on investing in the aerospace, defense, maritime, government and environmental industries. Since its founding in 1992, J.F. Lehman & Company has committed approximately $3.8 billion across 12 funds.
Other professionals who worked on the transaction include:
Jonathan I. Rabinowitz, Jay L. Lubetkin, Barry J. Roy, John J. Harmon and Henry M. Karwowski of Rabinowitz, Lubetkin & Tully, LLC, counsel to Custom Alloy Corporation;
Roger M. Iorio of Cole Schotz P.C., counsel to Custom Alloy Corporation;
Lawrence Perkins, Curt Kroll and Michael Grant of SierraConstellation Partners, financial advisor to Custom Alloy Corporation;
Hon. Kevin Gross (Ret.) of Richards, Layton & Finger, P.A., Independent Director to Custom Alloy Corporation;
Dimitri G. Karcazes, Zachary J. Garrett, Yasamin N. Kaye and Rachel Gena Chiss of Goldberg Kohn Ltd., counsel to the Senior Secured Lender;
Derek J. Baker of Reed Smith, LLP, counsel to the Senior Secured Lender;
Joseph J. DiPasquale, Martha B. Chovanes, Michael R. Herz and Joseph A. Caneco of Fox Rothschild LLP, counsel to the Official Committee of Unsecured Creditors;
Jacen Dinoff, Michael Goldman and Frank Turner of KCP Advisory Group, LLC, financial advisor to the Official Committee of Unsecured Creditors;
Tobias S. Keller and Jane Kim of Keller Benvenutti Kim LLP, counsel to Trident;
Peter Schnur, Thomas A. Cournoyer, Josef W. Mintz, Anthony Rapa, Justin A. Chiarodo, Naomi M. Gallimore, Adam R. Seiden and Samarth Barot of Blank Rome LLP, counsel to Trident; and
Chris E. Piasecki of Piasecki & Whitelaw, LLC, counsel to Affiliate Landlord.