SSG Advises on the Recapitalization of Bailey & Galyen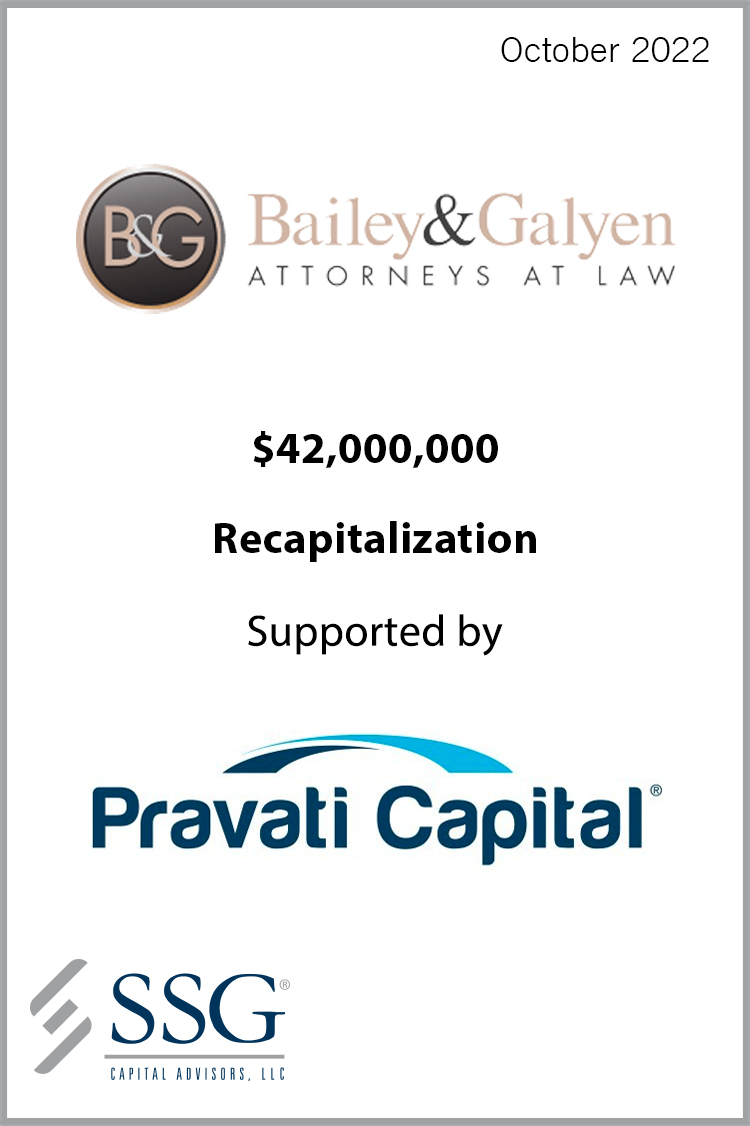 SSG Advisors, LLC ("SSG") acted as the investment banker to Phillip Galyen P.C. d/b/a/ Bailey & Galyen ("Bailey & Galyen" or the "Firm") in a $42 million recapitalization. The funding was used to refinance existing indebtedness and will provide additional liquidity for growth. The transaction closed in October 2022.
Founded in 1987, Bailey & Galyen is a full-service consumer law firm with 16 offices throughout Texas and Arkansas. The Firm provides individual and company representation in more than 11 practice areas, including: personal injury; divorce and family; workers' compensation; employment; criminal defense; immigration; social security disability; business and corporate; estate planning; civil appellate; and municipal law. With 39 full-time attorneys and support from a robust workforce, the Firm has a platform of resources to draw upon when counseling clients.
SSG was retained in May 2022 to assist with the refinancing of the Firm's existing debt. SSG leveraged its broad network of financing sources and solicited interest from a targeted list of traditional and alternative capital providers as well as specialty law firm lenders. After receiving numerous competitive term sheets, a revolving credit facility provided by Pravati Capital, LLC ("Pravati"), was determined to be the best solution. SSG's experience working with niche capital providers and its careful management of the relationships with all stakeholders resulted in the resolution of over $40 million of existing indebtedness and provided additional availability necessary to finance Bailey & Galyen's strategic growth initiatives.
Pravati is a leading litigation finance company based in Scottsdale, Arizona that is a strategic partner to law firms, plaintiffs, and investors. Pravati provides litigation funding solutions, creating innovative and client-friendly sources for capital.
Other professionals who worked on the transaction include:
Robert Forshey and Suzanne K. "Suki" Rosen of Forshey Prostok LLP, counsel to Bailey & Galyen.