SSG Advises on the Sale of Select Assets of Starcrest Products of California, Inc. to Silver Star Brands, Inc.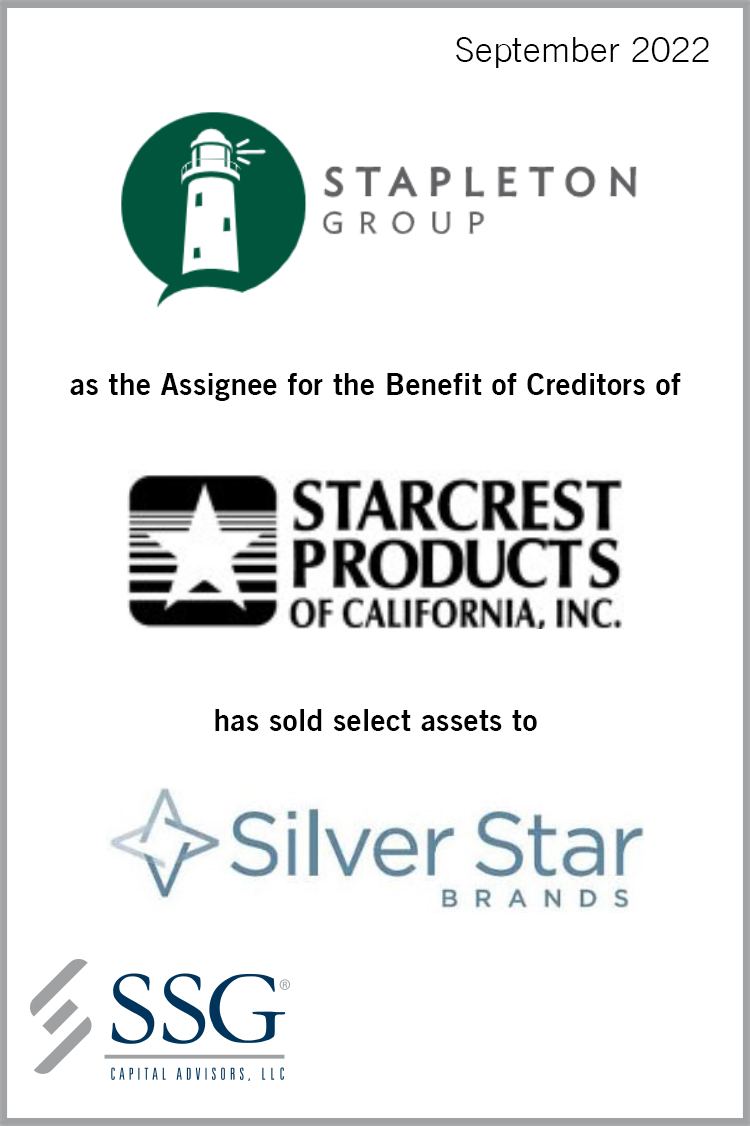 SSG Capital Advisors, LLC ("SSG") acted as the investment banker to an affiliate of Stapleton Group, Inc., the assignee for the benefit of creditors (the "Assignee") of Starcrest Products of California, Inc. ("Starcrest" or the "Company") in the sale of select assets to Silver Star Brands, Inc. The transaction closed in September 2022.
Founded in 1971, Starcrest is a multi-channel, direct-to-consumer retailer based in Perris, CA. Through its six catalogs, seven ecommerce channels, and an onshore call center, the Company offers a broad selection of products at affordable prices. Starcrest's representative product categories include home and office, kitchen and cleaning, clothing and accessories, health and beauty, gifts and décor, toys and games, tools and auto, and seasonal gifts.
Starcrest had established strong vendor relationships and significant customer loyalty over its 50+ year history, however, the business experienced steady declines in revenue and profitability in recent years. The financial deterioration was the result of industry headwinds, including a rise in postage and paper costs, an increase in competition from other ecommerce retailers, a reduced number of suppliers, and an increase in labor costs.
In order to effectuate a sale of its assets, Starcrest entered into an assignment for the benefit of creditors agreement with the Assignee in June 2022. The Assignee subsequently retained SSG as its investment banker to conduct a comprehensive sale process and solicit interest from strategic and financial buyers. The process attracted significant interest from multiple parties and resulted in several strategic alternatives. Ultimately, the offer from Silver Star Brands proved to be the highest and best value for the assets and provided for a quick closing which was critical to maintaining engagement with Starcrest's customer base. SSG's special situations expertise, significant experience in the direct-to-consumer industry and proven ability to market and close transactions in an expedited timeframe resulted in a competitive environment that maximized asset value for the creditors and allowed the legacy of the catalog brands to move forward under a new operator.
Silver Star Brands connects with more than 120 million households through its websites and catalogs for the Miles Kimball, Walter Drake, Easy Comforts, Exposures, Dream Products, and Native Remedies brands. Silver Star Brands is one of the largest direct marketers of consumer gifts and household products in America and ships nearly four million orders annually.
Other professionals who worked on the transaction include:
David P. Stapleton, Jake DiIorio, and Cooper Plyler of Stapleton Group, Inc., Assignee for the Benefit of Creditors;
William B. Freeman, Ethan E. Post, Sean S. Wooden, and Gregory P. Hidalgo of Katten Muchin Rosenman LLP, counsel to the Assignee; and
Henry P. Baer, Jr., Jared S. Dinkes, and Camila Acchiardo of Finn Dixon & Herling LLP, counsel to Silver Star Brands, Inc.