SSG Advises the Chapter 7 Trustee of Electric Last Mile Solutions, Inc. in the Sale of Substantially All Assets to Mullen Automotive, Inc.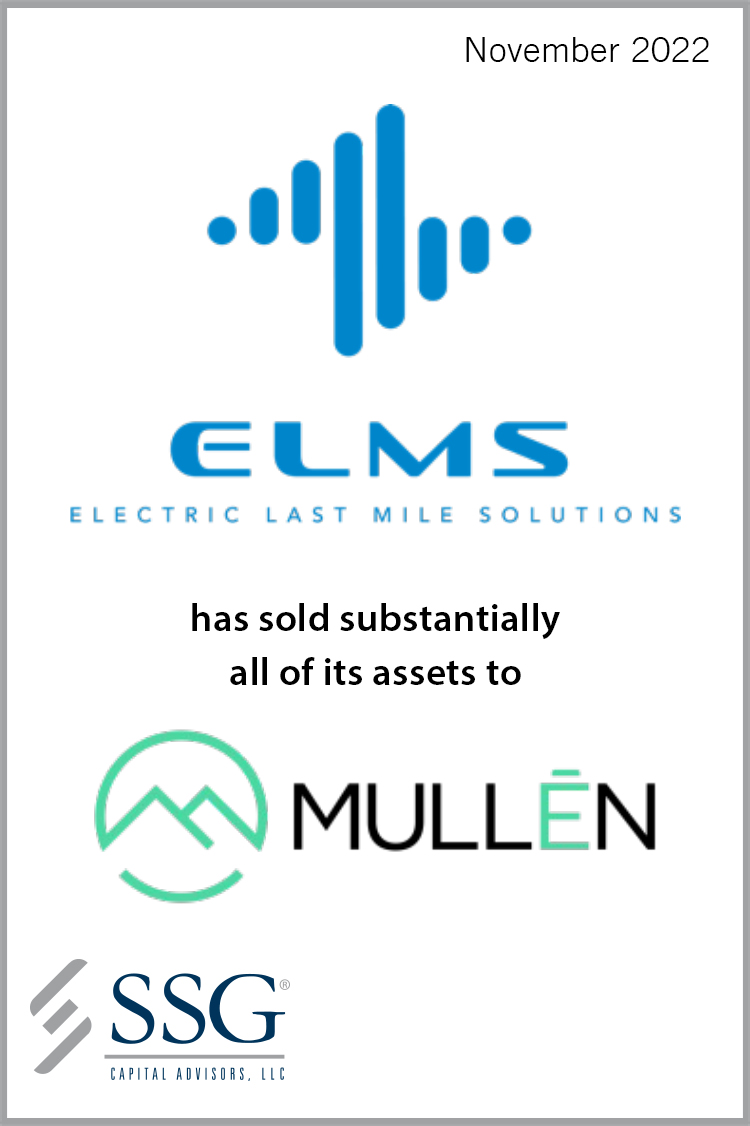 SSG Capital Advisors, LLC ("SSG") acted as the investment banker to David W. Carickhoff, Jr., Esq., the Chapter 7 Trustee of Electric Last Mile Solutions, Inc. and its subsidiary, Electric Last Mile, Inc. (together, "ELMS" or the "Company"), in the sale of substantially all assets to Mullen Automotive, Inc. for more than $100 million. The transaction closed in November 2022 pursuant to a Section 363 sale process in the U.S. Bankruptcy Court for the District of Delaware.
ELMS was a commercial electric vehicle solutions company founded for the purpose of designing, engineering, manufacturing, and customizing electric delivery and utility vehicles. The Company was headquartered in Troy, Michigan and operated a production facility in Mishawaka, Indiana. ELMS was in the process of designing and engineering two unique products: the Class 1 Urban Delivery vehicle and the Class 3 Urban Utility vehicle. The Company anticipated being the first provider of Class 1 electric vehicles in the U.S. market.
The Company was formed on June 25, 2021, through a reverse merger between Electric Last Mile, Inc. and a special purpose acquisition company and subsequently began trading on the NASDAQ Stock Market. With a 675,000 square foot production facility and a team of over 200 employees, the Company began executing its strategic plan of delivering an electric vehicle alternative to the last mile segment. Though ELMS made significant progress in its first six months and the Company generated demand from customers in all core end markets, the Company faced hardships in its inaugural year as a public company. Such hardships included an investigation by the SEC, a resignation of the Company's auditor prior to a filing of the FY2021 annual report, and a series of supply chain issues that delayed vehicle production. The culmination of these issues, among others, contributed to the Company's inability to support future operations and as a result, ELMS filed for relief under Chapter 7 of the U.S. Bankruptcy Code on June 14, 2022.
SSG was retained by the Chapter 7 Trustee in June 2022 to conduct a comprehensive marketing process and solicit offers for substantially all of ELMS' assets. After canvassing a wide range of investors and receiving significant interest from multiple parties, Mullen Automotive, Inc. was selected as the Stalking Horse with a bid valued in excess of $100 million (the "Stalking Horse Bid"). Following an expedited remarketing of the Stalking Horse Bid and the receipt of an alternative offer, the Stalking Horse Bid was ultimately determined to be the highest and best offer. SSG's ability to generate interest from buyers in an efficient and timely process enabled the Chapter 7 Trustee to maximize the value of the assets for the benefit of the estates. SSG worked with the Chapter 7 Trustee, his counsel, and financial advisors to create an extraordinary result for all constituents.
Headquartered in Brea, California, Mullen Automotive, Inc. (NASDAQ: MULN) is a development-stage electric vehicle manufacturer. The company owns and partners with synergistic businesses that create clean and scalable electric vehicles and energy solutions.
Other professionals who worked on the transaction include:
David W. Carickhoff of Archer & Greiner, P.C., Chapter 7 Trustee of Electric Last Mile Solutions, Inc.;
Alan M. Root, James G. Smith and Henry O. Boenning of Archer & Greiner, P.C., counsel to the Chapter 7 Trustee;
Alfred T. Giuliano and Robert L. Edwards of Giuliano, Miller & Company, LLC, financial advisors to the Chapter 7 Trustee;
Carl L. Grumer and Katherine J. Blair of Manatt, Phelps & Phillips, LLP, bankruptcy counsel to Mullen Automotive, Inc.;
Jeffrey C. Wisler of Connolly Gallagher LLP, local counsel to Mullen Automotive, Inc.; and
Alison R. Weinberg-Fahey of Greenberg Traurig, LLP, real estate counsel to Mullen Automotive, Inc.