SSG Advises Xeeva, Inc. in the Sale of its Outstanding Stock to Simfoni Limited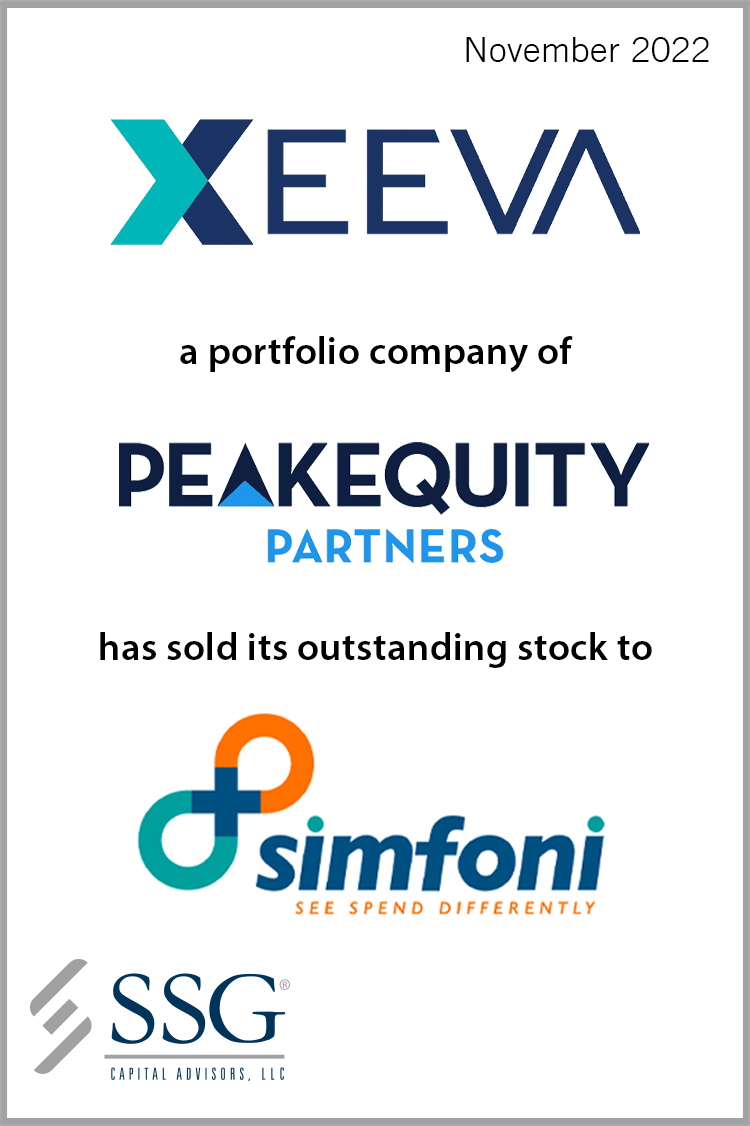 SSG Advisors, LLC ("SSG") acted as the investment banker to Xeeva, Inc. ("Xeeva" or the "Company"), a portfolio company of Peak Equity Partners, in the sale of its outstanding stock to Simfoni Limited ("Simfoni"), a portfolio company of PeakSpan Capital, LLC. The transaction closed in November 2022.
Headquartered in Southfield, Michigan, Xeeva is a premier provider of procurement software and data services for indirect spend management solutions. Using a proprietary artificial intelligence ("AI") powered approach to data cleansing, mapping and enrichment, the Company enables customers to lower costs by providing transparency into the spend process and optimizing the entire source-to-pay lifecycle.
The Company was founded in 2014 and initially operated as a tech-enabled automated workflow provider. In 2019, the decision was made to focus on delivering an end-to-end intelligent spend management suite leveraging the Company's existing technology and industry expertise, while adding new products to round out the solution. Over the next two years, the Company focused on implementing several strategic initiatives and repositioning the Company as an AI-powered procurement software provider. However, with the onset of COVID-19 in March 2020, the Company was limited in its ability to execute its go-to-market strategy. As a result, the Company sought a strategic or financial investor to strengthen its capital base and solidify operations for future growth.
SSG was retained in April 2022 to conduct a comprehensive marketing process and solicit offers for the Company. SSG canvassed a wide range of investors that engaged in a thorough review of the business. After receiving term sheets from strategic and financial parties, the sale to Simfoni proved to be the best solution as it provides Xeeva with the necessary capital and operational expertise to execute its strategic growth plan and realize meaningful operational synergies. SSG's experience running competitive sale processes and managing complex stakeholder relationships enabled the Company to maximize value for all stakeholders.
Headquartered in San Francisco, California, Simfoni is a developer of spend analytics and spend automation platforms designed to accelerate and automate key aspects of the procurement process. Simfoni's platforms provide insights into operational movements and accelerate the deployment of strategies for project management and savings tracking.
Other professionals who worked on the transaction include:
Scott R. Jones, Howard S. Goldberg, Todd A. Feinsmith, Deborah J. Enea, Edward S. Hale and Harry Nimoityn of Troutman Pepper Hamilton Sanders LLP, counsel to Xeeva, Inc.;
John M. Herring, Nick Allmon and Brian J. Litwak of Robinson, Bradshaw & Hinson, P.A., counsel to the senior secured lender of Xeeva, Inc.; and
Michael Roberts, Thibault Vieilledent and Ewelina Mikocewicz of Taft Stettinius & Hollister LLP, counsel to Simfoni Limited.